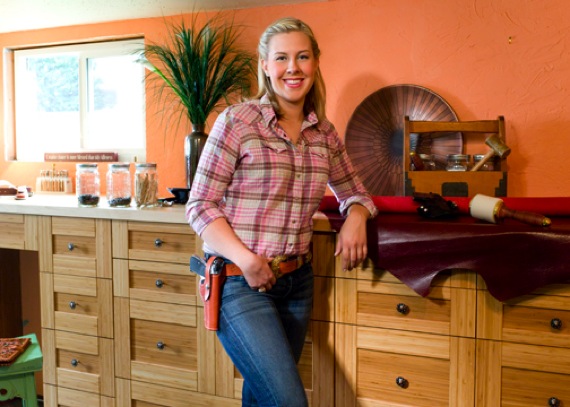 Cerisse Wilson graduated from the University of Portland in 2010. With the economic downturn causing a lull in the job market, Cerisse decided that she was not going to wait for a career to come to her, instead she was going to create her own. The entrepreneurial spirit has long been part of Cerisse's family. Her father and uncle own an American manufactured cabinet company that was started by her grandfather over 50 years ago. Another uncle owns a hardware store, her grandmother owned a seamstress shop for 30 years, and her grandfather's sister started a successful dairy.

Cerisse has always worked with her hands. Growing up she focused on painting, even having her work in art galleries, but had always been interested in leatherwork. Cerisse has always been a gun enthusiast, but has really gotten into the sport 4 years ago.

"I have always been proud of being part of an American manufacturer family, being that the American manufacturer is a dying breed. It was important to me that when I grew up, I become a manufacturer, regardless of what it may be. My dad taught me that whatever you make, you make something that you are proud of and proud to stand behind and this is something I am thrilled to continue in the world of leatherwork."

Building holsters isn't the only thing Cerisse is involved with in the shooting world. Aside from taking over 150 hours in training courses, she is also a Certified NRA Instructor and an avid hunter. When she isn't in the shop, you can find her at the shooting range, instructing courses, volunteering in a local Search and Rescue Team or improving her archery skills.